Inspired by arts, traditional handcrafting techniques, and colors from my environment, I play with textiles' inner properties, associated to other materials to innovate and reach unexpected territories in jewelry.
Wearable pieces of ornament arise from subtle variations in textures, shapes, and mechanical movements.
Olgajeanne, high-end costume jewelry
I've been designing jewelry since 2010. I started with creating a collection for French womenswear label Madame à Paris.
I enjoyed so much working on a small scale, directly experimenting with fabrics that then I decided to launch my own label of high end costume jewelry, Olgajeanne, in 2011.
I've been working as well as a freelance costume jewelry designer for luxury brands on international markets for a couple of years.
I mostly create jewelry based on geometrical, abstract shapes. Statement necklaces and bracelets are designed to emphasize any basic piece of one's wardrobe, in a bold yet minimalist style.
As a former fashion designer, I love to innovate with developing my own closing devices, away from traditional jewelry accessories. These details give a personal and sophisticated touch to my jewelry pieces.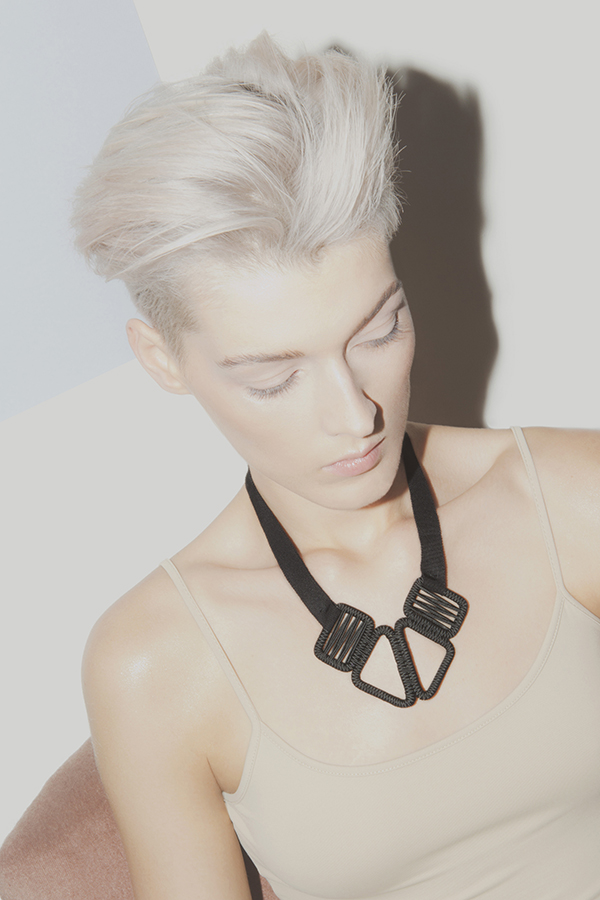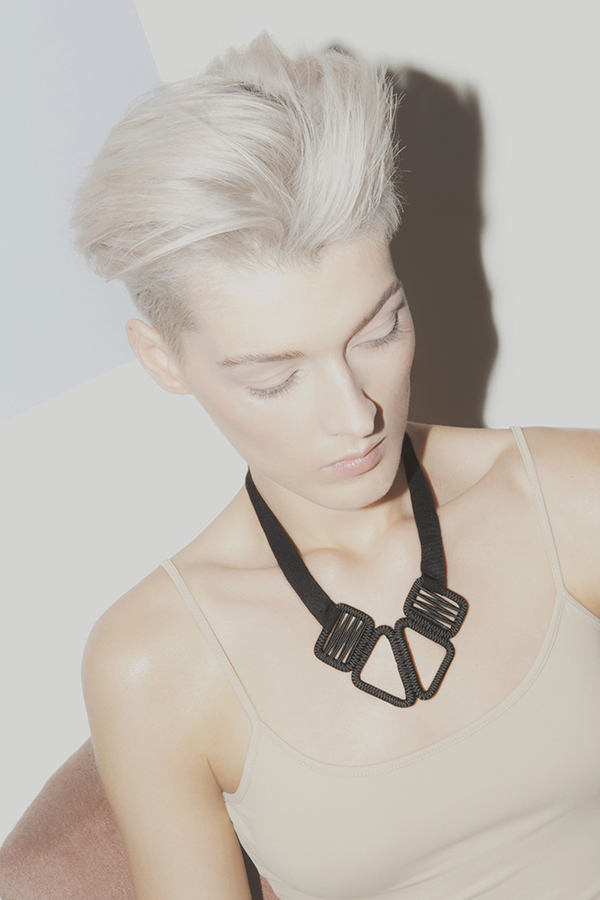 Handcrafting techniques applied to jewelry
I get inspiration from arts pieces, architecture, furniture to home accessories designs.
Exploring various techniques, I adapt them with choosing for each one a very specific textile, according to its technical features and esthetics.
In my jewelry collections you can find folding, braiding, weaving, embroidery, using grosgrain ribbon, satin ribbon, soutache, cords, etc. 
Handmade In France with care
Singularity, dexterity, attention to details, quality and time for the making process are the foundation of my collections.
Each piece of jewelry is handmade in the studio in Marseilles, using premium quality materials. Feeling concerned about sustainability, I collaborate with suppliers with great know-hows for ribbons, metal pieces, packaging, … Most of them are family companies.
Freelance costume jewelry designer
Apart from my first costume jewelry collection for Madame à Paris, in 2018-2019 I designed both costume jewelry and fine jewelry collections with a trend consulting agency, for a luxury fashion label on Asian market (confidential).
Costume jewelry prototype
Would you need any beautifully made jewelry prototype, that meets your quality requirements, to show then to your manufacturer ?
Personally making my own high-end costume jewelry for almost nine years enabled me to develop skills in manipulating specific materials, such as grosgrain ribbon.
During SS20 Paris fashion week I finalized the development of a pleated grosgrain brooch, for a luxury house.