Contemporary embroidery workshops
Starting again making embroideries at beginning of 2018, I realized it becomes addictive, and is installing peace of mind at the same time. So I decided to share these skills by giving contemporary embroidery workshops in my hometown, Marseilles.
If you wish to see more about my personal intuitive embroidery work please click here.
Why choosing hand embroidery ?
Although hand embroidery can sometimes still being considered as old fashioned, it is a medium chosen by many great contemporary artists, such as Louise Bourgeois, Sheila Hicks, and becomes extremely lively in the new artists generation.
For my part, on top of allowing self expression and creativity, I find it quite meditative ! Being focused on simple and repetitive gestures brings relaxation and peace to the mind.
For example, hand embroidery is a important part of Zen practice, with the Kesa garment mindful making process, in Japanese buddhism.
What is the purpose of these contemporary embroidery workshops ?
Contemporary embroidery workshops are moments dedicated to oneself.
During the course you exlore intuitive abstract embroidery, related to consciousness of the marks you make on fabric with threads.
It enables you to get technical skills by learning several stitches and maximizing their potential, and focuses on personal expression.
Experimenting abstract and intuitive stitching frees yourself of pressure of perfection, you forget about any imposed templates or value judgment.
Only enjoy yourself, free your creativity and see what appears under your fingers.
If you wish to
 let your hands express themselves with a simple technique and endless possibilities,
explore new territories of your creativity with a new medium
free your mind without hustling your body
these contemporary embroidery workshops may be for you.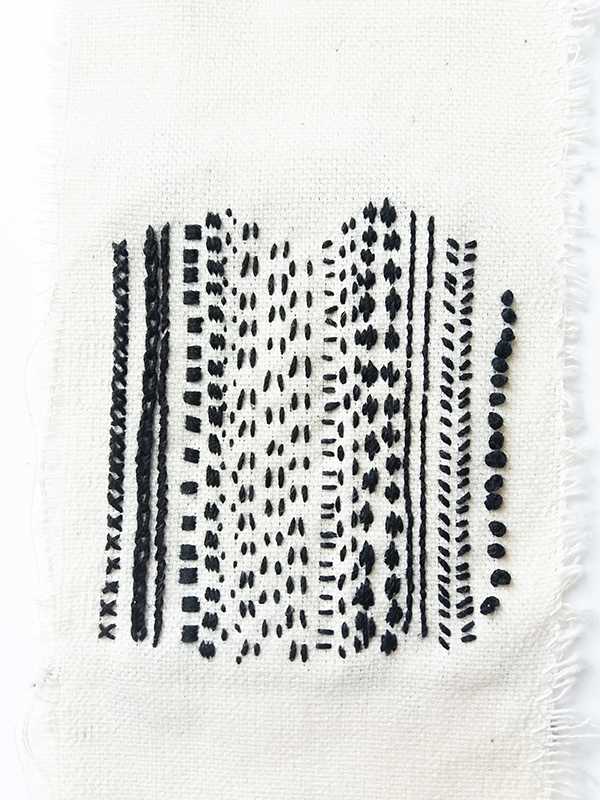 How does a contemporary embroidery workshop works ?
Workshop are collective, with a maximum of 6 (six) attendants (adults), in the intimate space of my own workshop in Marseille, 3rd district, or in some other places in the center of town.
The small number of participants enables me to spend time with each one of you, to help you during the creating process.
The workshops are either adapted to complete beginners or more advanced skills in embroidery, according to each theme, please refer to course description.
Materials and tools are provided during the workshop, you take your own creation with you at the end of the session.
The planning of workshops is published first in my monthly newsletter, then on social Facebook and Instagram.
Detailed content of each workshop is available on my e-shop.
You can find out more about my contemporary embroidery workshops on Facebook : inspiration, exemple, course content…
Do you wish to organize a contemporary embroidery workshop at your place ?
You are running a shop, a museum, an association, and you would like to share some skills with your public.
Feel free to contact me through the contact form of this website, and we will be discussing your project.